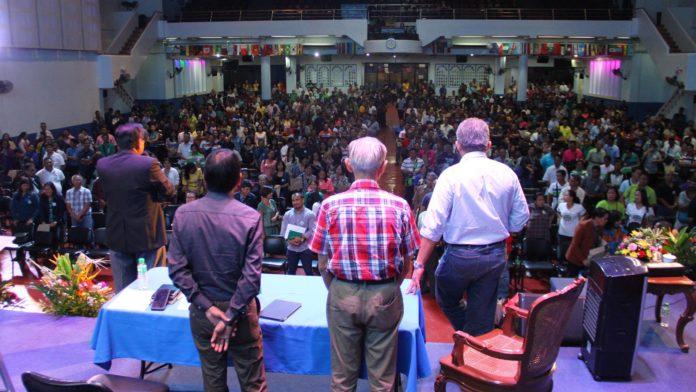 The Philippines General Council of the Assemblies of God (PGCAG) held its special convention on August 23-26, 2016 at Word of Hope Church in Quezon City.
Current General Superintendent and President David A. Sobrepeña, was elected again to the position by an overwhelming vote of more than 90% of the nominating ballots cast in the election held on August 24, 2016. Other officers who were re-elected were: Rev. Conrado Lumahan, Assistant General Superintendent and Vice-President; Rev. Felipe Acena, General Secretary; and Rev. Jerry Balbuena, General Treasurer.
The elected Board of Trustees (BOT) from Luzon were: Revs. Elmer Miguel,Thimber Bugtong,Edilberto Cruz, Jr. and Wilfredo Caja; from Visayas: Revs. Gerry Cabajes, Cruz Lapura and Benjamin Butcon; and Mindanao: Revs. Elpedio Taboclaon, Alfonso Sibuala, Oscar Tulang and Emmanuel Basilio.
The election for the General Superintendent and Prresident was chaired by Bishop Noel Pantoja, Executive Director of the Philippine Council Council of Evangelical Churches (PCEC).
Some 1,289 ministers, delegates and conventionists registered during the 4-day convention.
There were also four evening rallies which were attended by over one thousand more attendees who didn't need to register but as guests.
We thank God for the success of the event which was graced by no less than Dr. James Davis, Dr. Elmer Towns, Dr. Alex Abraham, Revs. Leonard Sweet, Leon Fontaine, Charles Tuttle, Ivan Powar, Stenley Hofwijks, Edgar Holder, Javier Espinoza, Frederick Semazzi, Ivan Wanda and Jean Gatabazi, all great speakers who challenged, inspired and motivated the pastors, delegates and ministers to fulfill the great commission in our generation.